"This is not just a carousel; from here, I can reach the sky"
27 September 2023
In Lviv, an inclusive Amusement and Discovery Park has been created for children with disabilities, and it's truly unique. Every element of the playground is carefully thought out down to the smallest detail. For parents, it's essentially the only safe, accessible, engaging, and educational space where their special children can swing and have fun. It was created by the American couple Eddie and Tetiana at their own expense. They believe that all children, without exception, have the right to joy, especially during times of war.
"My son smiles."
Danylko loves to swing on his mother's lap. He is three years old and adores fun. Recently, the boy learned to hold his head, sit in a specialized chair, and stand in a standing frame. Immediately after birth, he had a brain hemorrhage and spent a year in a hospital room, undergoing more than twenty surgeries. Now, Danylko is undergoing various rehabilitation programs and visits Dzherelo Centre.
In Syhiv, where they often go with their mother, there are no playgrounds where he can play and experience the joys of childhood. However, on the grounds of Dzherelo in Lviv, at 86A Chervona Kalyna Ave, such a place has appeared. He happily swings, spins in his wheelchair, and smiles while drawing butterflies in the air with his hands.
Previously, there was an old play area for children with disabilities in the yard, but it was completely renovated, expanded, and equipped in the framework of this new project, specifically developed and implemented by Eddie and Tetiana.
"We want to ignite a spark in children!"
The playground for children with disabilities is completely enclosed and decorated with yellow-blue patriotic flags. At the top, there is a sign that reads "The Bridge of Life," depicting children holding Ukrainian and American flags. This is the name of the family foundation founded by Eddie and Tetiana in the United States. The couple poured all their creativity into this playground.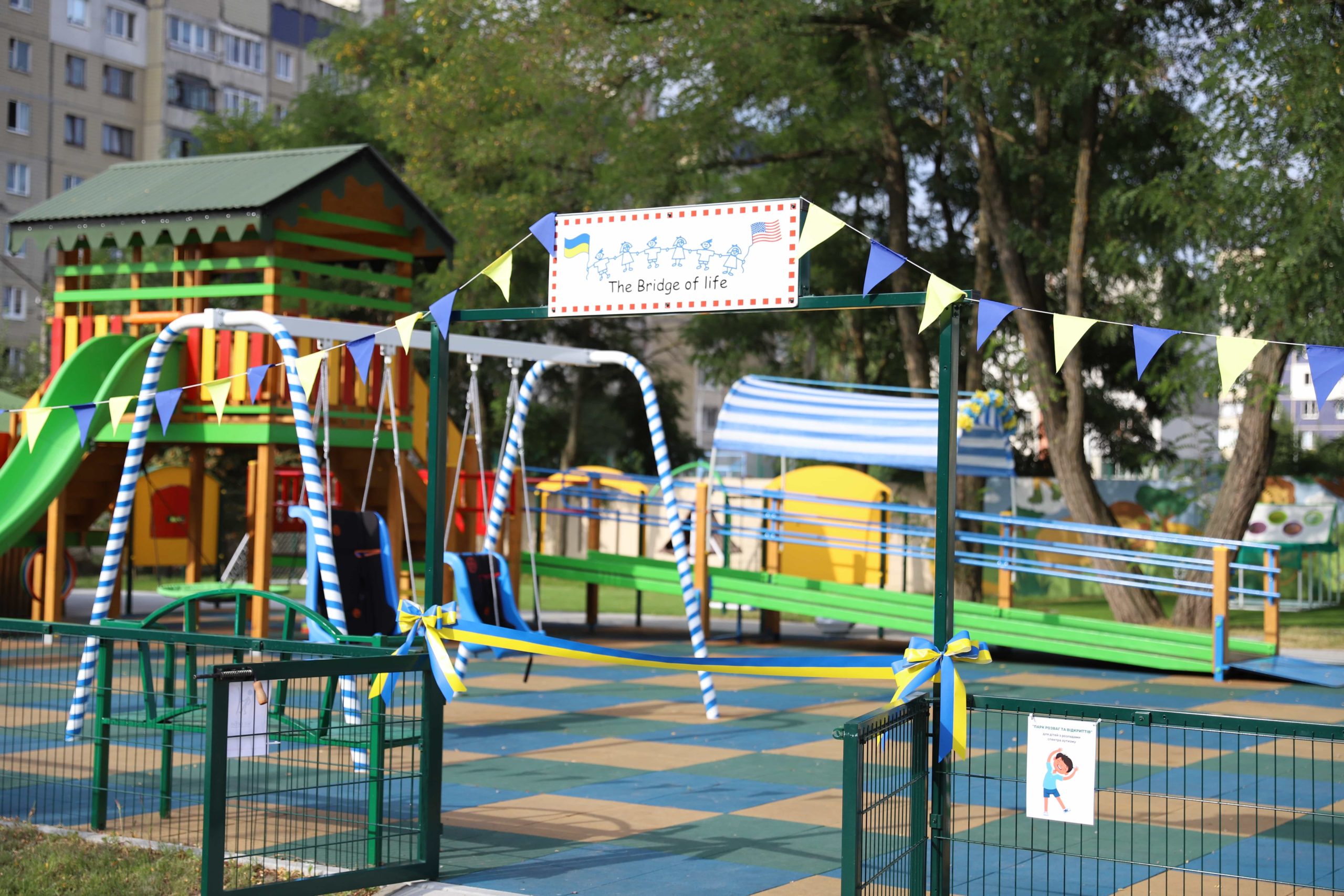 The Amusement and Discovery Park is divided into two zones: one for children with musculoskeletal impairments and the other for children with autism spectrum disorders. Everything here is meticulously designed.
The park has a special rubber surface, all structural elements are safe, without protrusions or sharp edges, and the carousels are without raised portions, making them accessible for wheelchairs. Moreover, various play areas are designed to elicit smiles, interest, and excitement in children.
In the first zone, children with musculoskeletal impairments can safely swing on the swings. They are secured in high chairs with special safety straps. Nearby, there is a roundabout carousel. It's important for the children to face the park, not the center of the carousel, so they can see all the colors of life and the beauty around, emphasizes Eddie.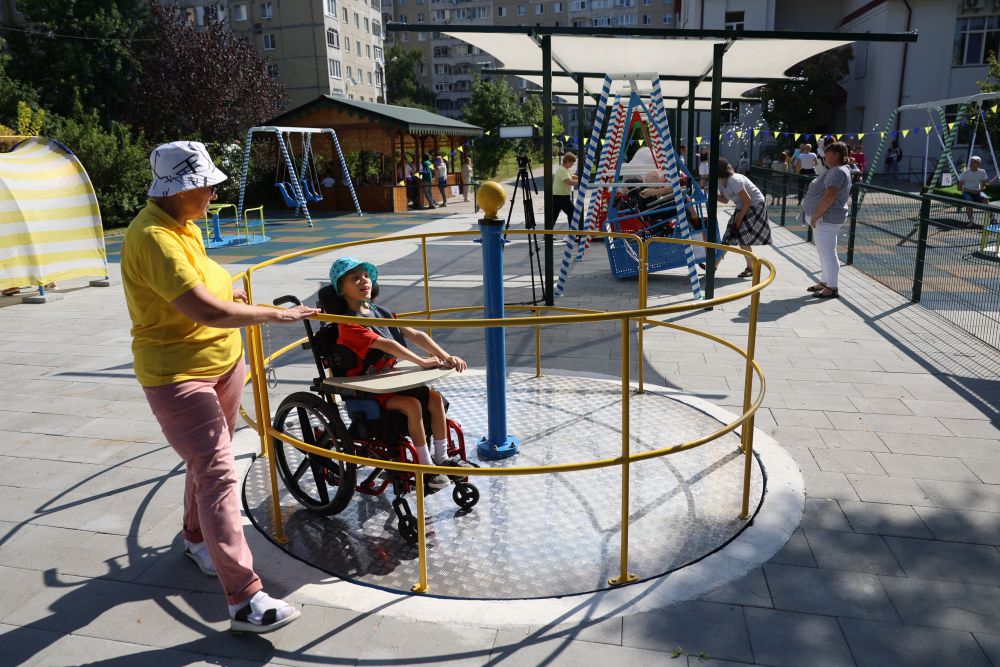 Photo: Roman Baluk
Besides carousels, there are sensory locations for visual contact to evoke specific associations and sound panels where you can hear the sounds of different instruments. You can also play with colorful rubber toys that will bring smiles even to adults.
Photo: Roman Baluk
In this zone, there are large "boat" swings under cover where children can roll in their wheelchairs. For young artists, there are special boards for drawing, made of durable material. There's also a table with kinetic sand to develop fine motor skills.
In the second zone, designed for children with autism spectrum disorders, attention is immediately drawn to a swing covered with artificial grass. It can accommodate six children and has special protective elements on the chains to prevent pinching fingers. Such protective elements are not expensive and should be on all swings with chains, Eddie emphasizes.
In this zone, there are separate stands with targets for ring throwing. These rings are made of fabric, completely flexible, and entirely safe, as plastic ones could bounce off the stand and potentially harm the children. Every detail of the park was approached with great care. Another stand is intended for throwing sandbags into baskets. Here, you won't see plastic or hard balls that could hit the children.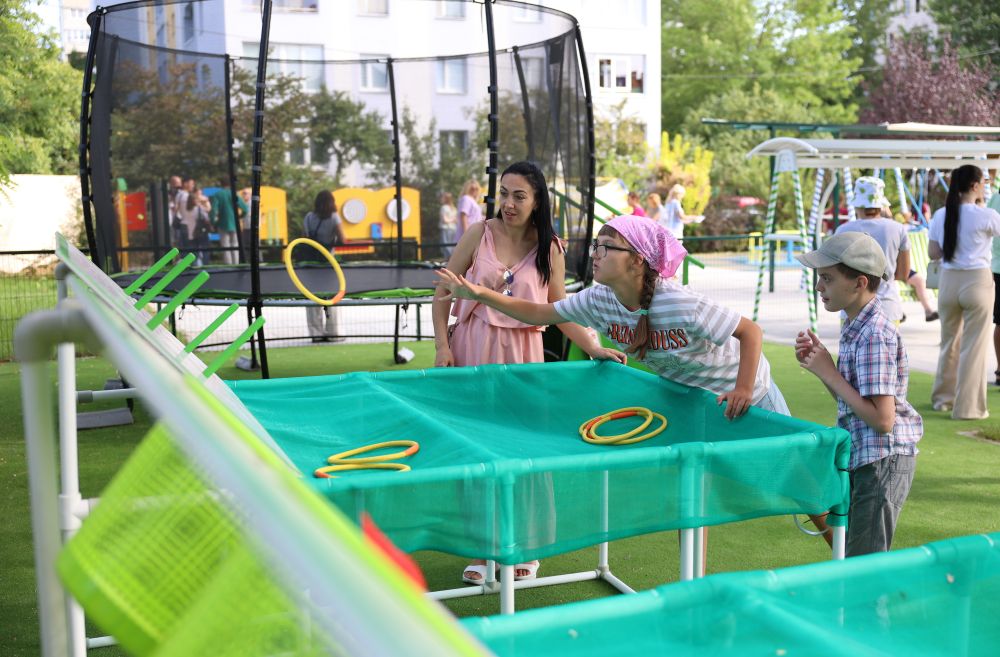 Photo: Roman Baluk
The central slide is made using a unique technology. All wooden structural elements are smooth, without protrusions or sharp edges, and the screws used are large and completely safe. Wooden crossbars are spaced so that children cannot get their heads stuck. There is a slide for descending from the tower, but if a child decides not to slide, they can easily descend safely via wide stairs.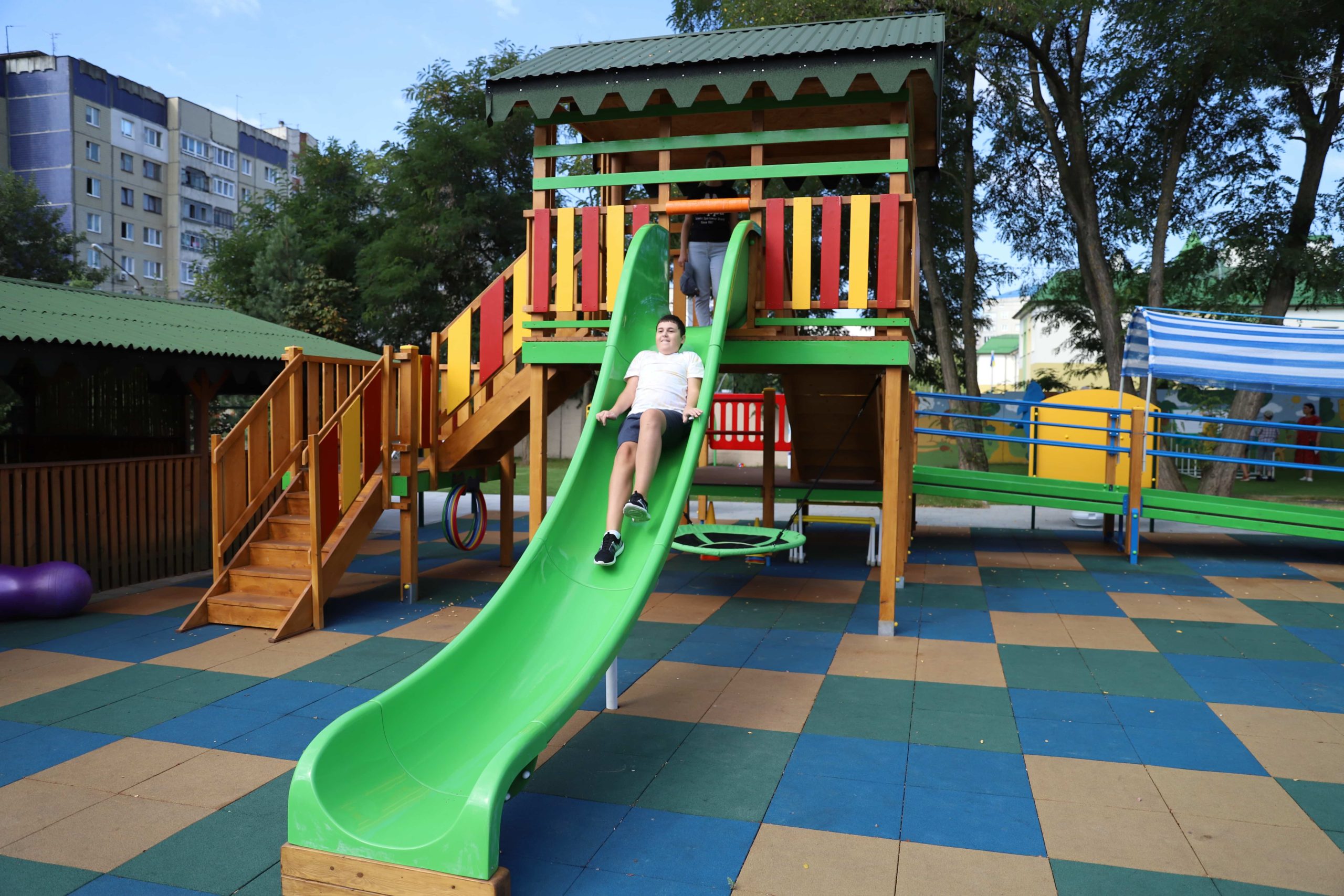 Beneath the main tower, there is a soft swing on suspensions, a kind of "nest" for relaxation. Right next to it is a section with obstacle course equipment. All cones and crossbars are made of plastic—they are very light, specifically designed by Eddie and Tetiana.
Children can also pass or ride through a special tunnel in wheelchairs, discovering a different dimension of sensations.
On the playground, there is a small soccer field. Nearby, in the shade of trees, there is a hammock that unfolds into a swing. It can accommodate several children. Here, kids can rest, catch their breath, and relax.
In the park for children with disabilities, various forms of entertainment are gathered to "ignite a spark in children." This is what Eddie, who created this playground, says, aiming to open the world of carousels for them, give them joy they unquestionably deserve, regardless of their special needs.
"Sold his company to help children"
Eddie and Tanya traveled to over 30 countries. In various corners of the world, they implemented projects for child development and their happy childhood. The uniqueness of their family foundation is that 99% of the funds for all projects come from their own pockets. How did they manage to accumulate funds? Eddie managed a multinational company for over 30 years, which he decided to sell to dedicate himself to helping children. The proceeds from the sale of this company are spent on children in crisis situations who have suffered due to war, natural disasters, or found themselves on the streets.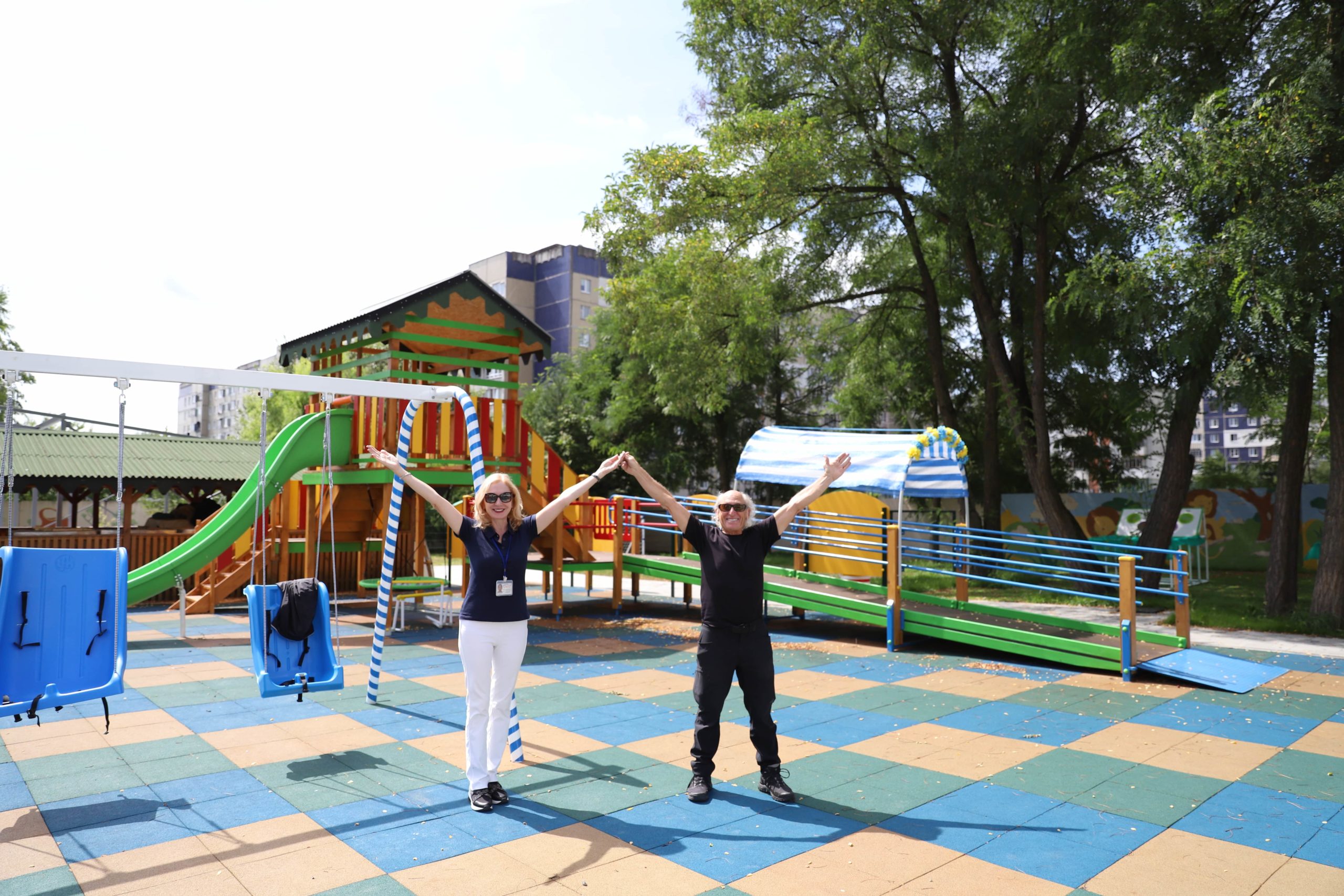 On February 24, 2022, when Russia attacked Ukraine, Eddie and his wife flew to Colorado, gathered warm clothes, and decided to support Ukrainian children during the war.
"We received a lot of requests for help and joined various humanitarian projects for hospitals, Ukrainian defenders, and combat medics. Unfortunately, many international NGOs left Ukraine, and quite a few Ukrainian NGOs ceased their activities, so we partially filled this gap," Eddie says.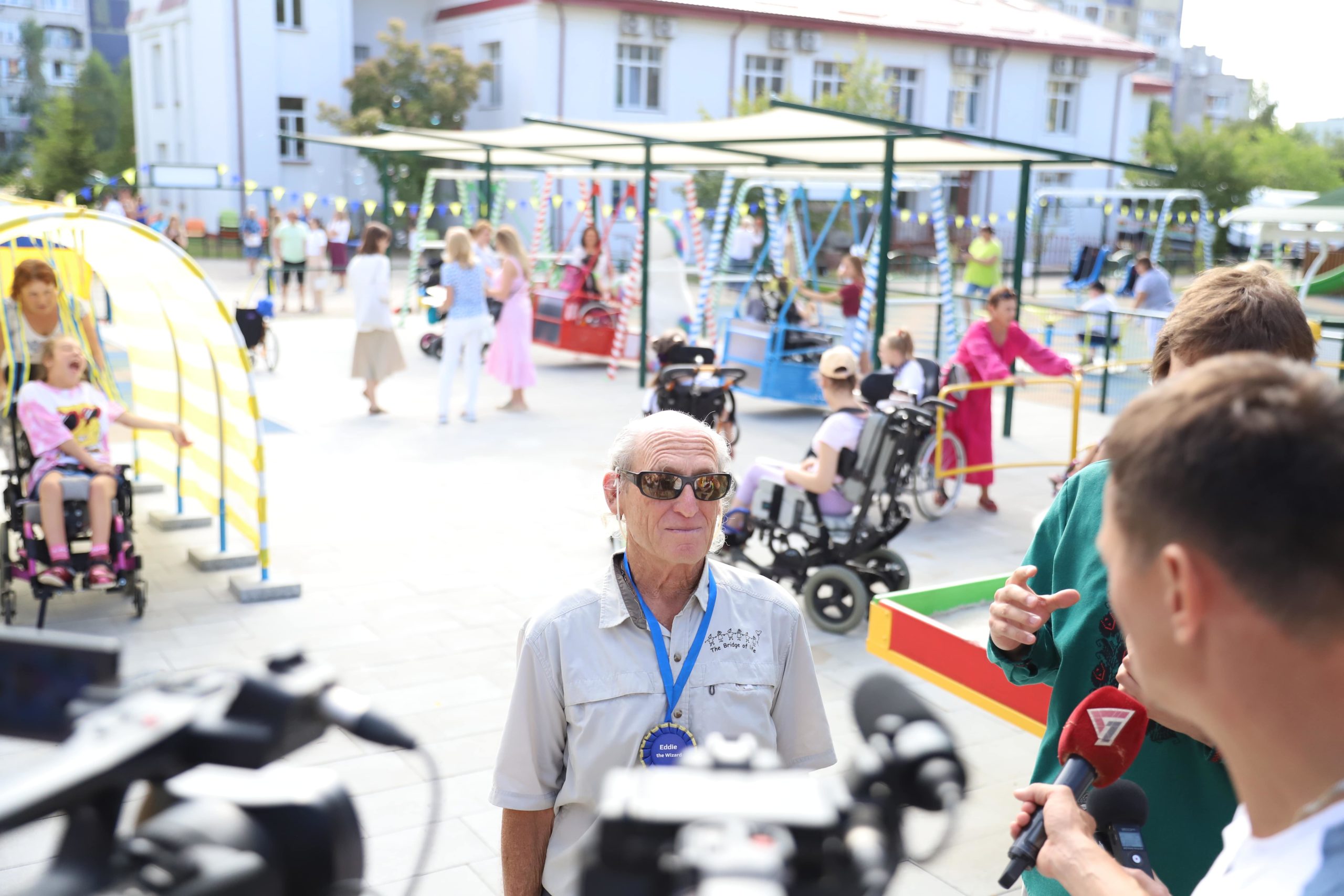 That's when Dzherelo appeared in their lives. Here they accepted the challenge of creating the first inclusive playground in the city for children with disabilities and, at the same time, calling on the authorities to build new safe and accessible playgrounds.
"We were impressed that the doors of the Centre were open to children seeking safety and help. We decided to get involved. Initially, they asked us to repair the playground's flooring and replace the old rubber tiles. We replied, 'We do it!' But then we realized that this wasn't enough, and we started building a playground to distract children from the war and devastation," Eddie explains about the project.
The couple held many meetings with the staff, parents, and children of Dzherelo Centre, listened to their wishes, and consulted with experts from different countries when certain questions arose during the planning. They considered, among other things, the safe distance from the carousel to the crossbars, the load on swings, and the covering. They emphasize that such playgrounds are critically important for society, especially during times of war.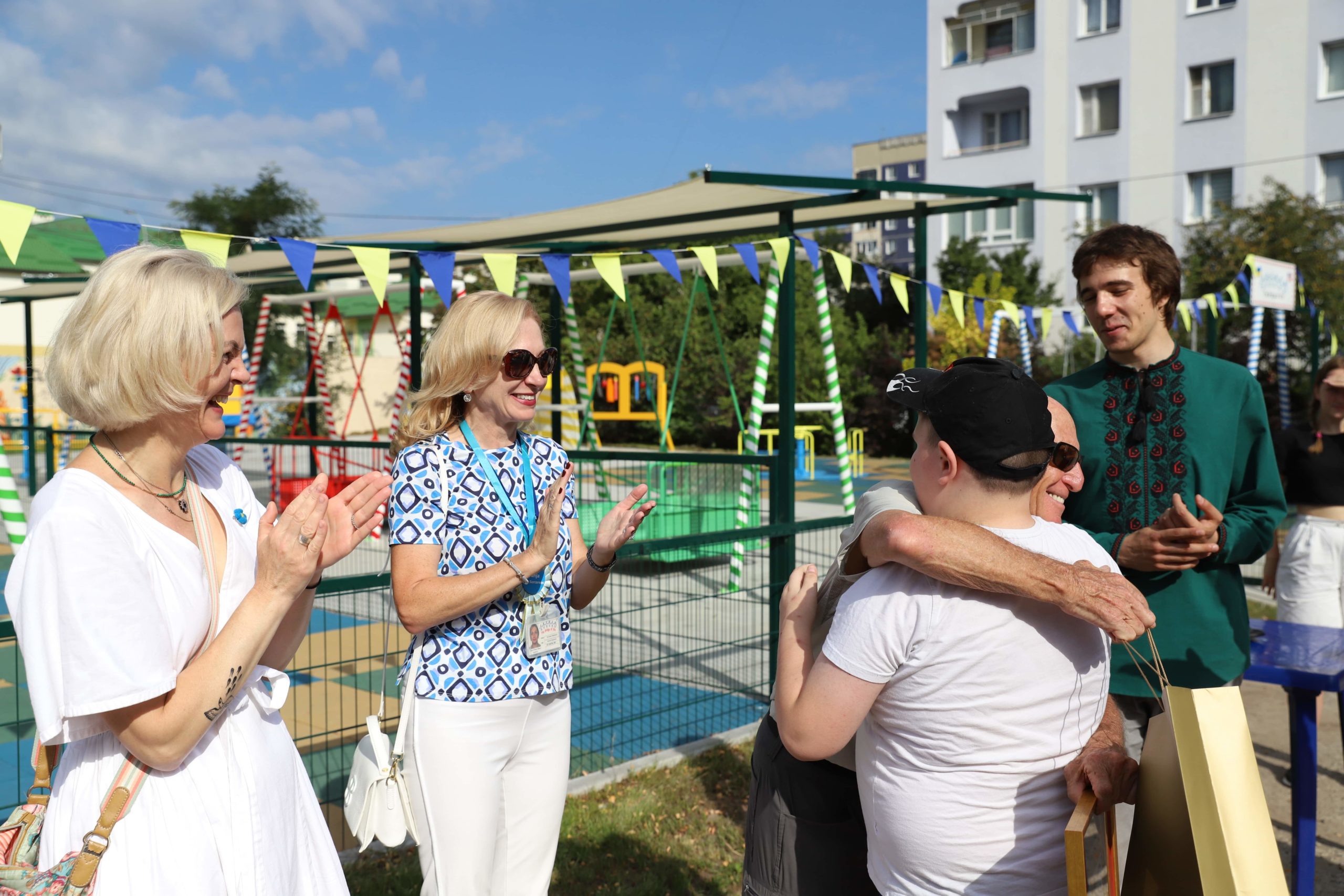 "The unique thing about this park is the children who will come here," Eddie emphasizes. "I never say there are children with autism or cerebral palsy; first and foremost, they are children who later have their own developmental characteristics. But there are things to consider when building a playground for them. First, it must be safe. Second, it must be fun. And third, it must be an opening for them, to make children interested in questions like what, when, how, and why. These are the questions that little children who are starting to explore the world ask. We just need to ignite that spark in them," Eddie shares.
The philanthropists hope that the amusement park will become a new recreational place for children with disabilities and their parents, and that officials will understand how important safe and accessible playgrounds are.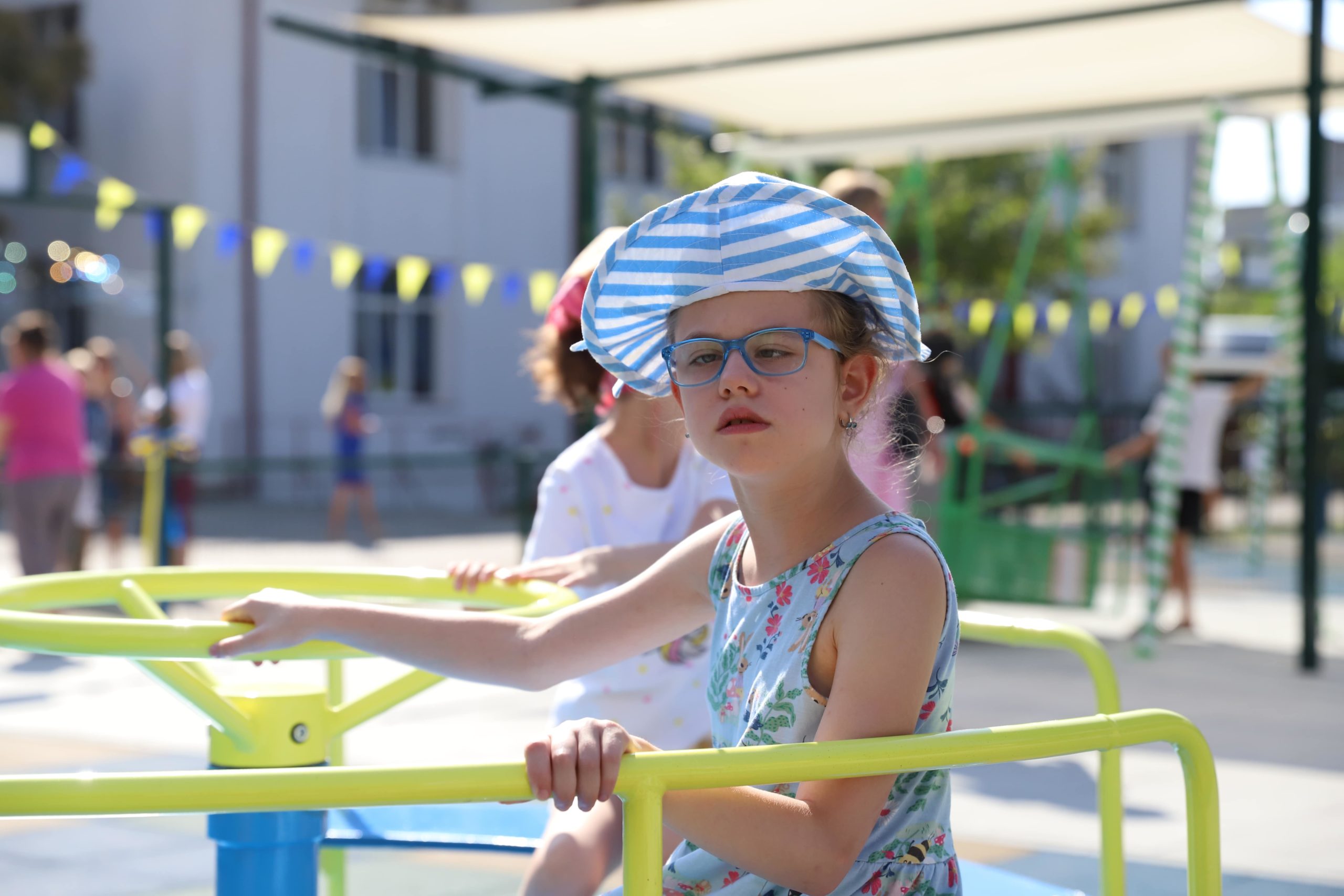 "Many playgrounds that were designed and built recently, and a lot of money was spent on them, are not entirely safe. For example, I wouldn't let my child play there. But it's not because of bad intentions or bad people who designed them, it's because they didn't know how to do it right," Eddie explains. "In the 1970s in America, there were 200,000 children who were injured on playgrounds, but mothers said, 'Enough!' They went to the government and started demanding changes. Both at the federal and local levels, many revolutionary rules for building playgrounds were adopted."
When Ukraine wins, such inclusive playgrounds will be needed throughout the country. Therefore, it is important to make them safe and accessible, and this does not always mean "very expensive," Eddie and Tanya believe.
"We need to make these playgrounds as inclusive as possible in large cities. Also, every city should have a carousel for wheelchairs on its playground," Eddie emphasizes.
And when he points to this amusement park for children with disabilities once again, he adds, "These are not just carousels… All children think they are flying when they swing. 'Here, I'm flying; I can reach the sky.' They distract themselves from reality and immerse themselves in a world where they are happy, warm, and safe."
Prepared by
Khrystyna Hohol